A Tennis Lovers' Shopping Guide
David Shaftel, Editor of Racquet Magazine, serves up his favorite tennis items of the moment, including our very own Whiteout 300 racquet.
—
By David Shaftel via Air Mail News (Original Article)
My Favorite Things
"Solinco just released two customizable racquets, the Blackout and Whiteout, one for novices and one for advanced players. They were designed with help from Roman Prokes, the celebrated racquet tech for Andre Agassi. Both have features that were previously expensive and only available to pros. They're conversation pieces in addition to being great racquets."

With the Wimbledon finals in full swing this weekend, our thoughts naturally turn courtside. And here to indulge us with a dose of tennis-centric style is David Shaftel, editor and co-founder of Racquet, the independent quarterly magazine celebrating tennis art, style, and culture. With ace design, a tongue-in-cheek throwback vibe, and a global perspective, we like to think it has all the right ingredients. And that worldview comes largely courtesy of Shaftel—who has lived and worked in New York, Trinidad, Mumbai, Phnom Penh, and London—bringing a distinctive voice not only to Racquet the magazine (and the 2020 book of the same name) but to his features for publications such as The New York Times, the Financial Times, and The Guardian. Herewith, he serves up his favorite items of the moment.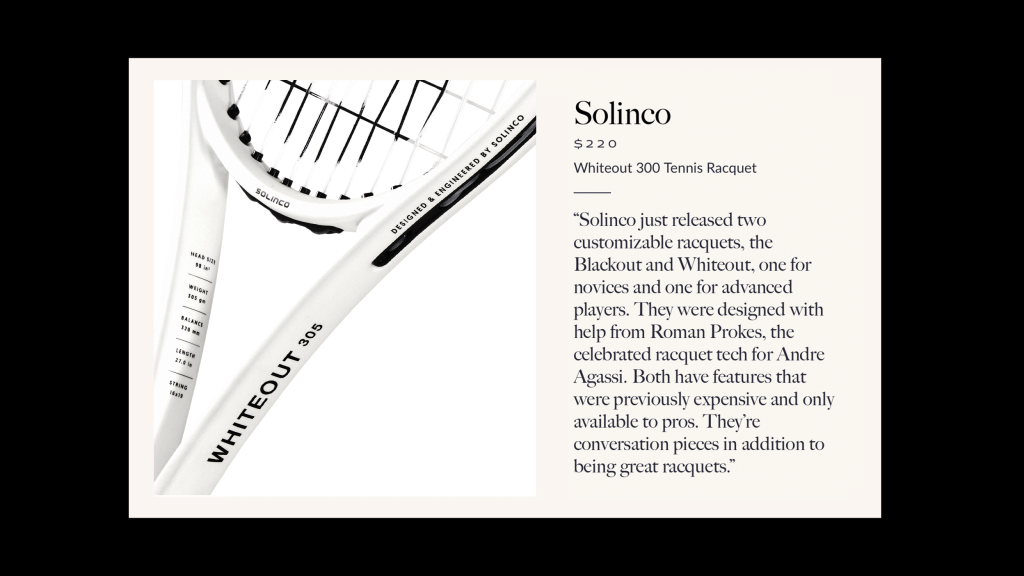 Get David's full shopping list : airmail.news/shop/collections/my-favorite-things-41

Rajeev Ram with partner Joe Salisbury complete the US Open hat-trick! Read on for more Team Solinco updates.
Read More