Forbes : Solinco Enters Racket Market Backed By Tennis String Success
The new Solinco Whiteout and Blackout tennis racket frames bring the brand known for its string into a new market.
—
By Tim Newcomb via Forbes (Original Article)
BLACKOUT AND WHITEOUT RACQUETS
For the past 15 years Solinco Sports has placed a focus on tennis strings. The global success in the space has seen Solinco strings in the rackets of multiple major champions—quite often incognito—and now Solinco wants to build around that string success. The next step: rackets.
"We had this mission statement early on to provide players of all levels high-performance, high-quality products, everything you need to get out there and play tennis on the equipment side," says KT Kim, director of Solinco Sports. "The strings are where we focused and had expertise and where we built our brand. Rackets were always on the dock."
The 2022 launch of the Whiteout and Blackout frames serves as that first real entry into rackets, one roughly four years in the making. "Our vision has always been to work at that high-performance pro level and filter down from there," Kim says. "We wanted rackets any top-10 player could use. That was the type of quality and performance we were targeting. If we couldn't get to that point, we wouldn't have come out with anything."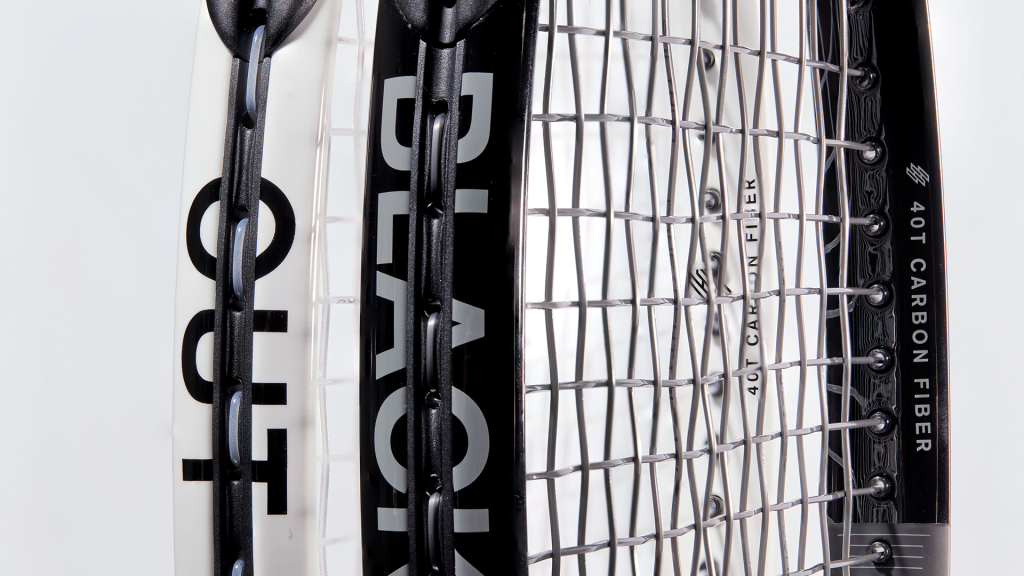 To get there, Solinco hired two leading names in racket design, including Roman Prokes, known for his racket customization when working with Andre Agassi. With experience now in house, Solinco didn't put the project on a strict schedule, instead focusing on developing a product they knew could succeed.
The February 2022 launch of Whiteout and Blackout frames set the pace for the future of Solinco rackets. From a technology standpoint, Solinco placed 40T carbon fiber, the highest-grade of carbon fiber available in tennis and rarely used in the sport, at the 3 and 9 o'clock positions to increase the sweet spot while providing stability and strength. Crystal liquid fibers in the grip aims to dampen vibration.
The Whiteout comes foam-filled in the hoop of the racket, creating a solid feel for players generating their own racket-head speed. The 98-square-inch head features weights at 290 and 305 grams.
The Blackout features a Power Flex Zone, enlarging the beam width around 5 and 7 o'clock areas to strengthen the area for a flex that maximizes power return to the ball, even with off-center strikes. With a 100-square-inch head, the Blackout is meant to appeal to a beginner, intermediate or professional with its range of weights from a junior frame at 245 grams to a mix of adult-sized rackets up to 300 grams.
To add an extra bit of Solinco flare, and bring in the expertise of Prokes, each frame comes with a weight control module. With interchangeable 5-gram and 10-gram butt cap plates, Kim says players can pop out the plate and put in a new one in a matter of seconds. "During a hitting session, it allows you to play with balance and overall weight and feel for yourself," he says. Consumers get the option of buying a slightly lighter racket and easily add weight.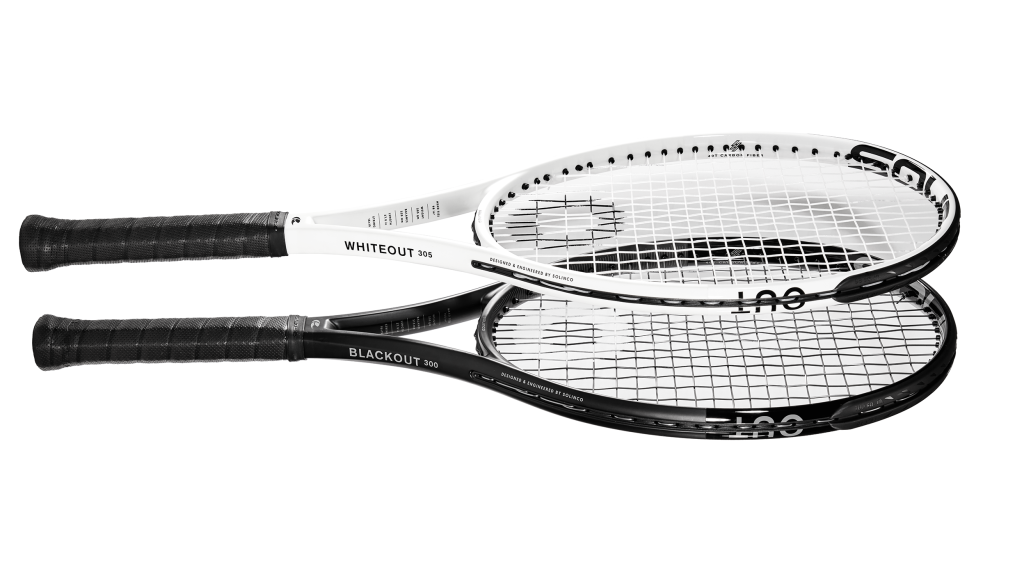 During design in Torrance, California, Solinco also had plenty of marketing discussions centered on the name of the new lines. "We try to simplify things here," Kim says. "We didn't want to come out with five or six lines of rackets." And in keeping with the simplicity, Kim says they know most players—sometimes even at the pro level—don't know the name of the racket they use but call it by the brand and the color.
"We have had a lot of strategy meetings and listed 100 different names," he says. "You can call it any cool name you can think of, (players) will come back to the color. Our thought process was to keep it super clean, classy and do something most people don't do and just have no color on it. In that process, let's call it what it is."
Enter Whiteout and Blackout. "Easy enough," Kim says. "It is hard to forget the name."
With a crowded frame market at the top of tennis, Solinco plans to build its racket awareness the same way it did strings, by taking the long-term view. The strings, with top-10 players using everything from Solinco's popular Hyper-G to TourBite and more, already have inroads at the highest level.
"We have had numerous grand slam champions, former world No. 1s, current top-10 players all choose to use our products without any official contract or compensation, sometimes spending their own money to buy our products because they believe it's what helps them play their best," Kim says. "That to me is clear validation that our products perform at the highest level out there."
Already American Noah Rubin and 21-year-old rising Swiss player Leonie Kung play with the Whiteout and the retired Bryan brothers both wield the Blackout.
"Part of our company philosophy is if we come out with good products at a reasonable price point and take a long-term approach, things will work out," Kim says. "We have seen that with our strings, and we were able to build a strong following. It may take some time to get it out there, but we will get there."

Rajeev Ram with partner Joe Salisbury complete the US Open hat-trick! Read on for more Team Solinco updates.
Read More